All About Me
Hi. My name is Amanda Kritzer. I am 'Statgirl,' the creator and maintainor of the East High Baseball page and the Room 106 page.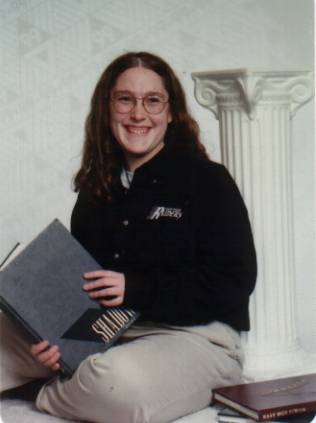 I am a 1999 graduate of East High School in Sioux City, Iowa. Currently, I am a sophomore undergrad at Wayne State College in Wayne, Ne. I am majoring in Elementary Education with an endorsement in Early Childhood Education.
My intersts include reading, writing, spending time on my computer, and hanging out with my friends.
I love the TV show Dawson's Creek. It's the only thing that as a permenent position in my schedule every week, and that I make sure I never miss (besides classes that is).

---
The History of My Web Pages

I am currently working at expanding my web page database. The baseball page is the first web page that I created. Within the next few weeks (and months), hopefully you'll be seeing links to more of my own pages that will interest you. I thought of the idea for my baseball web page when a friend of mine started urging me to make a web page, and I had no idea what I should have as a topic of a web page. My other pages have emerged as I have become more experienced with the creation of web pages. I have been at a stalemate (or designer's block) the last few months. However, I now have to design a page as a class assignment, and I have found myself with a whole group of fresh new ideas. So, enjoy while you browse.




© 2000 Amanda Kritzer